Roxian Live & Grey Area Productions present
Shaq Nicholson
The Moat Rats, pvkvsv
Thunderbird Café & Music Hall
Pittsburgh
,
PA
This show is 21+ unless accompanied by a parent or legal guardian
Roxian Live & Grey Area Productions present
Shaq Nicholson
"Shaqueducts" Album Release Party
With The Moat Rats and pvkvsv
At Thunderbird Music Hall
Saturday, August 10th, 2019
7pm Doors, 8pm Music
4053 Butler St, Pittsburgh, PA 15201
Purchase tickets to Shaq Nicholson today!
On April 20th, 2016, Shaq Nicholson played their first gig as a band at Howler's for a Bernie Sanders fundraiser, and they haven't looked back since. The group of five is led by guitarist, Steven Lipe, and features the varied talents of Anthony Gima (rhythm guitar), John Neckerman (bass), Brian Taylor (drums), and SJ Kirkland (vocals). It's never easy to pin down the sound of a new band, but as they explore their identity they navigate psychedelic grooves, soul and funk influences, blues rock, and a bit of "let's not take ourselves too seriously".
Shaq Nicholson has opened for prominent jam acts, Lettuce, Main Squeeze, and Sinkane. Influenced by Pink Floyd, Bill Withers, Amy Winehouse, Erykah Badu, and many more, their sound is all-encompassing and ready to bring you out of your head and onto the dance floor. Shaq Nicholson is ready to take the mainstage to present their debut album, "Shaqueducts", a true labor of love.
Purchase tickets to Shaq Nicholson today!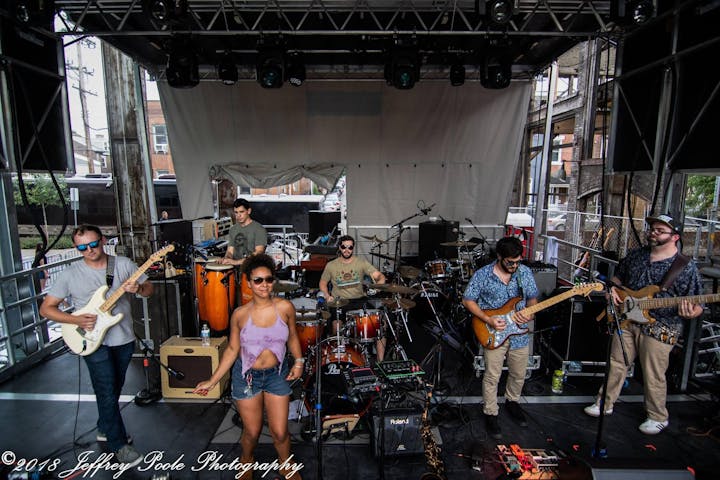 Venue Information:
Thunderbird Café & Music Hall
4053 Butler St
Pittsburgh, PA, 15201