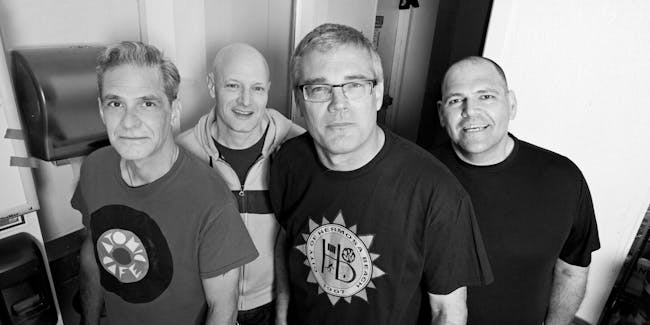 Roxian Live & Grey Area Productions present
Descendents
Iron Chic, No Parents
Roxian Theatre
McKees Rocks
,
PA
This event is all-ages
Roxian Live and Grey Area Productions present
Descendents
With Iron Chic and No Parents
At Roxian Theatre
Saturday, September 15th, 2019
7pm Doors, 8pm Music
425 Chartiers Ave, McKees Rocks, PA 15136
This show is all-ages
Purchase your tickets to Decendents on 4/26 at 10AM!
Every Descendents album is an event. Formed in '78, the band's first releases have proven historic, and all the ones since have only further refined the Descendents concept. Punk, pop, buzzing, summery, heartfelt, defiant, adolescent, and wise all at once -- the Descendents sound never gets old. And while fans got the band's full story in the acclaimed documentary, Filmage, it's been twelve years since there's been new Descendents music. Finally, here comes their long-awaited next LP, Hypercaffium Spazzinate.
Descendents' first Epitaph Records release since Everything Sucks in 1996, Hypercaffium Spazzinate began taking shape after the band ended an extended hiatus to play live in 2010. Though still tight, they lived apart: singer Milo Aukerman -- whose cartoon rendering famously serves as the band's logo -- was now living in Delaware, bassist Karl Alvarez and founder and drummer Bill Stevenson were in Colorado, and guitarist Stephen Egerton had settled in Oklahoma. So the album came to life over three years as the band sent tracks back and forth, occasionally meeting up in Karl and Bill's adopted hometown of Fort Collins. Adopting such a protracted process meant not having to rush things, allowing for some of their sharpest songwriting yet.
It's an album every bit as charged as the band's iconic full-length debut, 1982's Milo Goes to College -- or anything since. "I think one of the things that's kept us inspired over the years is having the music as an outlet for our frustrations," says Milo, who delivered a particularly impassioned, even aggressive vocal performance. "Having the freedom to completely blow my voice out every time I recorded was a very positive experience for me," he says.
Personal catharsis is also a prime motivator for Bill, who names "my relationship priorities and my own faulty psychology" as his top inspirations. "In a way, putting pen to paper and getting whatever you need to get out of you is the big accomplishment—and if it happens to make the record, that's neither here nor there," he says.
Lyrically, Hypercaffium Spazzinate lives up to its title. It's all over the place, taking on overprescription of ADHD medication and its damage to kids ("Limiter"), social awkwardness and romantic rejection ("On Paper"), relationships, workplace angst, and impostor syndrome ("Testosterone"). "'Testosterone' came from me being a fairly subdued personality surrounded by these egotistical, arrogant scientists all the time," says Milo, who's recently left his longtime position as a molecular biologist at DuPont. "It's a universal thing that those are the people who rise to the top, so the song's about me thinking I've got to be more like them and try grabbing for the golden ring instead of sitting there just picking my nose."
Hypercaffium Spazzinate gets even more personal with tracks like "Feel This," a rebellion against societal pressure to instantly numb any emotional pain. "I wrote 'Feel This' after my mom passed on," says Karl, who contributed lyrics to music composed by Stephen. "Almost from the minute she died, people were trying to give my stepfather medication or get him into counseling instead of just letting him go through it on his own. In life the temptation to insulate yourself from feeling things is very strong, especially when what you're feeling isn't pleasant." On the flipside, "Victim of Me" (another track co-written by Stephen) was sparked by Bill's realization that "it was time for me to stop complaining about my life and finally start trying to fix things."
One of Hypercaffium Spazzinate's most heart-on-sleeve moments, "Smile" sees Milo offering a pep talk to help Bill, who was feeling down after he experienced several major health problems. "Smile" is one of several tracks here that exemplify Descendents' unique sense of unity, like the reflective "Full Circle" and album-closing anthem "Beyond the Music." "Most of us came from some kind of weird home life, so this band ended up being our family," says Bill. "It's a little different now, compared to when we were kids and all sleeping in our practice room where there wasn't even a shower—but we still love each other's company, and we play every show with smiles on our faces."
Featuring the classic Milo cartoon as its cover art—this time, he's got his head affixed to a lab flask in an attempt to "synthesize some bonus caffeine," as Milo explains—Hypercaffium Spazzinate delivers all those good Descendents feelings their fans love. "Each time we make a record it's almost like the first time all over again," says Bill. "There's a quote from Ornette Coleman about how the song is the territory, and what you do with the song is the adventure. We're definitely still going on all these little adventures together."
Purchase your tickets to Decendents on 4/26 at 10AM!
Venue Information:
Roxian Theatre
425 Chartiers Ave.
McKees Rocks, PA, 15136