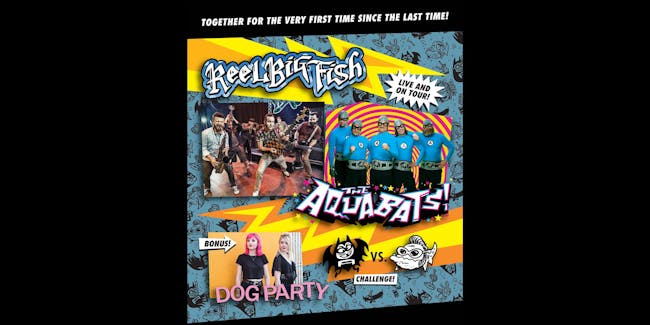 Roxian Live & Grey Area Productions present
Reel Big Fish
The Aquabats!
Dog Party
Roxian Theatre
McKees Rocks
,
PA
This event is all-ages
Roxian Live and Grey Area Productions present
Reel Big Fish & The Aquabats
With Dog Party
At Roxian Theatre
Thursday, July 2nd, 2019
6pm Doors, 7pm Music
425 Chartiers Ave, McKees Rocks, PA 15136
This show is all-ages
Purchase your tickets to Reel Big Fish & The Aquabats on 5/3 at 10am!
>Reel Big Fish
Reel Big Fish was one of the legions of Southern California ska-punk bands to edge into the mainstream following the mid-'90s success of No Doubt and Sublime. The band was distinguished by their hyperkinetic stage shows, juvenile humor, ironic covers of new wave pop songs, and metallic shards of ska. The group cultivated an underground following that broke into the mainstream in summer 1997 when their single "Sell Out" became a modern rock radio and MTV favorite. Their appearance in the movie "Baseketball" as the halftime band also gained them more fans and helped the band's popularity to grow. Still fronted by original lead singer and songwriter Aaron Barrett, they continue releasing albums and touring relentlessly, playing more and more countries and bigger venues all over the world.
With the late-2018 release of the band's 8th studio LP, "Life Sucks...Let's Dance" (Rock Ridge Music) Reel Big Fish are finding themselves with a new focus and a renewed sense of purpose, as well as a-- dare we say it-- happier outlook on life.
The long-running ska heroes, fresh off a summer-long stint on the final cross-country Vans Warped Tour, and appearances at Scallywag! Fest (with Bad Religion, Pennywise, Less Than Jake and The Interrupters) and Sammy Hagar's Hightide Beach Party, remain as popular as ever, as they continue to tour non-stop, playing over 250 shows a year to thousands of loyal fans all over the world, gaining more and more underground popularity as the Ska scene continues to flourish.
>Aquabats
TV's punk rock superheroes The Aquabats formed in 1994 in Orange County as a way to have some harmless fun in a music scene that took itself too seriously. Their Paul Frank designed "power belts," trademark blue rash guards, black eye masks, "anti-negativity" helmets and onstage antics quickly caught on, earning the group a fiercely loyal following that spans generations. Their line-up and music is
continuously evolving, including Blink 182's Travis Barker as former drummer "Baron Von Tito." To date, The Aquabats' music library includes The Return of the Aquabats (1996), The Fury of the Aquabats! (1997), The Aquabats vs. The Floating Eye of Death (1999), Myths, Legends and Other Amazing Adventures, Vol. 2 (2000), Yo! Check Out This Ride! (EP, 2004) Charge!! (2005), Radio Down! (EP, 2010), Hi-Five Soup! (2011).
Current Aquabats are Christian Jacobs, "The MC Bat Commander" (lead singer), Chad Larson, "Crash McLarson" (bass, vocals), Ian Fowles, "EagleBones FalconHawk" (guitar), Richard Falomir, "Ricky Fitness" (drums), and James Briggs, "Jimmy the Robot" (keyboards, woodwinds, vocals).
>Dog Party
California-based, indie rock band, composed of sisters: Gwendolyn and Lucy Giles.
Drawing influences from: The Go-Go's, The Ramones, The White Stripes, and The Runaways - Dog Party establishes their own unique West Coast sound with a dash of punk rhythm and a sprinkle of pop vibes. With 6 albums and extensive National/International touring under their belts, Dog Party's been active since 2007.
In fall of 2016, they were the Special Guests on Green Day's "Revolution Radio" North American tour.
Purchase your tickets to Reel Big Fish & The Aquabats on 5/3 at 10am!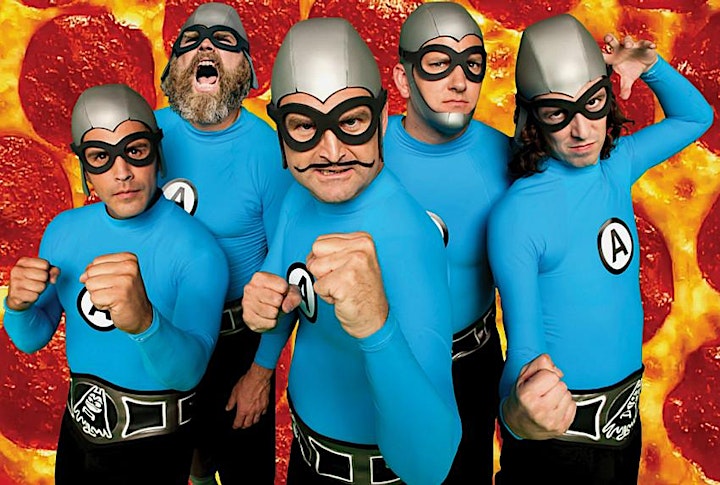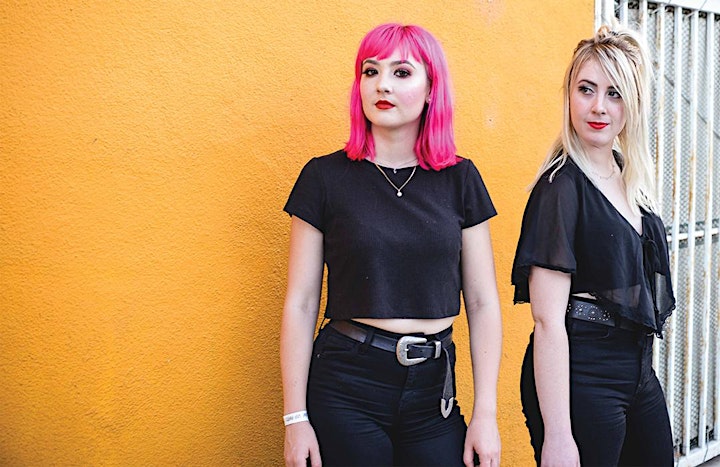 Venue Information:
Roxian Theatre
425 Chartiers Ave.
McKees Rocks, PA, 15136